Can your Machine Handle a Ton of Tasks, Like Cutting, Grinding, Scraping, Sanding, and Sawing?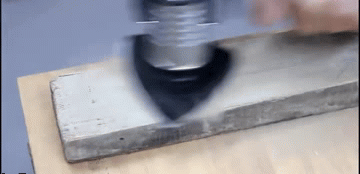 Oscillating Multi-Tool is Perfect for carpenters, contractors, tradespeople, flooring and cabinet installers, and serious hobbyists. Regardless of the job, professionals love these tools. It can save your time on the job site, especially if you need to complete a task that requires the use of several different attachments in sequence.
Features:
Can work in insufficient light with illuminating lamp.

Double handle designed for convenience.

Easy to change accessories without a wrench.

6 adjustable speed to meet different power requirement.

Suitable for polishing, grinding, cutting for wood and PVC.
Installation Tips:
Release the lock forward 180¡ã.
?Follow the direction to turn around the lock.
?Install the saw blade.
?Tighten the lock.
?Adjust the position of lock.
Back in the normal position.
Package Includes:

1 x Trimming Machine
1 x Scraper
1 x Saw blade
2 x Sandpapers
2 x Cleaning cloth
1 x Sanding Pad?
1 x Semi-circular saw blade
1 x Handle
1 x Waterproof bag
?
SAVE YOUR?TIME AND EFFORT, MAKE YOUR?PROJECT AS FAST AS YOU CAN WITH?OSCILLATING TOOL!
Get Yours Now! Available While Stocks Last!